Founded in 2018, Delta Sales App is produced by Delta Tech Nepal. Delta Tech is a member of RK Golchha Group and Golchha Organization, one of Nepal's oldest and most esteemed business houses. Golchha Organization, established in 1934, employs 20,000+ people across Nepal and has an annual turnover of over 400 million USD. Established in 2016, the organization holds brilliant software developers, designers and technical support members, and over 1500 happy clients globally.
Delta Tech began as a web and mobile app development corporation and entered the tech business to become a top service-based technology company. After a few months of constant market research, the founders realized that many organizations need user-friendly business software to improve their productivity, performance, and ROI. Thus, they started focusing on building SaaS applications that can solve common business problems.
Delta Sales App is an Android-based solution for pursuing field sales employees and accomplishing sales for businesses like FMCG, tractors, field service, pharmaceuticals, footwear, and garment makers.
Delta Sales App with 20000+ active field employees has made 100+ clients happy by giving them a 100% satisfaction guarantee and 5-star user ratings.
The GoodFirms team approached Ekta Golchha, the CEO of Delta Sales App, in which she unveiled the features and usabilities of the software.
Starting with the interview, Ekta mentions that using this solution, business people can track field employees & their activities and boost their efficiencies. They can also automate the sales ordering process, make customer information accessible to field reps, boost customer engagements, reduce administrative and manual tasks, and accelerate sales.
Talking about the objective behind the development of the software, Ekta explains that being earlier into IT services only created an opportunity for the founders of the Delta Sales App to discuss with clients the problems they were facing in their businesses. After having consulted with many local companies, tracking and managing field sales was one common problem many of them faced. Therefore, developing a custom solution for each business would not have been cost-effective, making the team practice this SaaS solution.
Continuing further, Ekta divulges that using Delta Sales App is very simple. Firstly, all clients' salesmen have to connect the Delta Sales App on their handsets from Google PlayStore. Each sales rep will have a separate login credential. Sales Managers can control the activities of field employees, assign tasks, make announcements and create multiple kinds of reports by accessing the web panel.
She further explains the software usage in detail by asserting that retailers can directly place their orders to the merchants via the retailer app and check different schemes/discounts offered. Delta Sales App can also assist in market surveys and check the retailers' shelf conditions through the images captured on the app.
Businesspeople can easily take care of orders placed by retailers and make sure they are given on time. Moreover, they can market products and orders in the most efficient way by practicing this field sales app.
Area Sales Managers can install the reps' monthly/weekly/daily sales target and survey field sales employee activities. Whenever changes happen, sales managers can easily advertise on the app and let their employees know.
The managers can also record their field sales employees' geo-location, routes and distance traveled, and other daily activities like orders taken, payments obtained, and new parties added. They can also produce excellent reports for gaining better insights and resolving problems quickly.
Management teams can overview all the sales activities and make rules and strategies to move ahead in their business. They can interpret performance easily by looking at customizable yet user-friendly dashboards and make better future decisions by defining KPIs and KRAs for the entire unit members.
Coming to the software features, Ekta mentions that using this software, businesspeople get the real-time GPS location of field reps, the distance they have traveled, no. of days and hours served, and leaves taken through the intuitive and easy-to-use platform.
Further, Delta Sales App comes up with the customer relationship management feature. Manufacturers can maintain a smooth customer experience and a strong record of all their customer details, including order details, payment collections, and meetings.
Every action of clients' salesperson gets automatically logged into the system. With the integration of location-based details of clients, you can be assured that your sales team would never miss a client visit along their route.
Besides this, Delta Sales App enables manufacturers to improve communication and coordination with their field sales team and work more efficiently by designating activities, getting notified about complete activities, making important decisions, and instantly passing their expenses.
Business people also get automated reports of all activities related to their sales team and save time collecting data from every member and producing a manual assertion. These relevant data records can be employed for defining the overall execution. They can be stored for further study, which may make way for the betterment of businesses in the next cycle.
Thus, with such robust solutions and features, Delta Sales App gets entitled as one of the best field service software at GoodFirms.
The reviews obtained at GoodFirms reflect the quality service offerings rendered by Delta Sales App.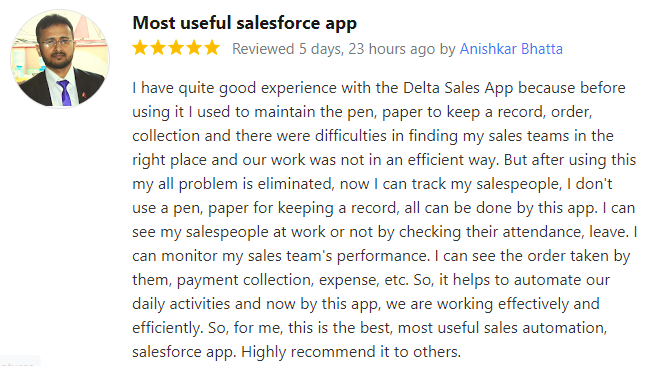 Concluding the interview, Ekta mentions that there are various other similar software available in the market, but users find their software very user-friendly, and the support team is very active. In addition, the app is highly customizable to fit into any sort of business with field employees. This has helped the company to gain an edge while dealing with prospective customers.
Furthermore, she explains that the users pay the firm a monthly fee for its services as it's a SaaS application. Usually, 75-80% of customers become regular customers after three months of using the software.
Thus, having gone through the features and usages of the software, one can also read the detailed interview given by Ekta Golchha to GoodFirms.
About GoodFirms
Washington, D.C.-based GoodFirms is a maverick B2B research and reviews firm that aligns its efforts in finding the best software agencies delivering unparalleled services to its clients. GoodFirms' extensive research process ranks the companies, boosts their online reputation, and helps service seekers pick the right technology partner that meets their business needs.
About the Author
Anna Stark is presently working as a Content Writer with GoodFirms – Washington D.C.-based B2B Research Company, which bridges the gap between service seekers and service providers. Anna's current role lingers to shape every company's performance and key attributes into words. She firmly believes in the magic of words and equips new strategies that work, always with ideas, something new to carve, and something original to decorate the firm's identity.
Date: Jul 08, 2021
Author: Anna Stark