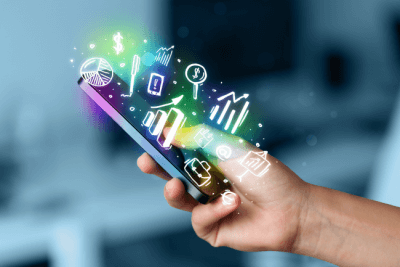 Dec 19, 2018
Author : Saroj Thakuri
Mobile App Development in Nepal
Along with the development of science and technology, everything is changing around us. If we go to the past, there used to be a large computer, wired technology with low storage capacity and mobile phones with terrible battery. But, the development of technology has changed the way we live, the way we use mobile phones and the internet.
Looking after the need and meeting the latest technology, we Delta Tech Nepal thought to expand our services toward mobile application so that every people demand can be fulfilled with ease. A mobile app is the latest trend that has emerged and taken the market. We develop the mobile application according to the need of the market.
"The future of mobile is the future of online. It is how people access online content now."
- David Murphy, Founder, and Editor of Mobile Marketing Daily
Mobile Application Development is the process of developing a mobile app for mobiles like Smartphones, iPhone, tablets, and many other mobile devices. Mobile Application or Mobile App is the software application that is designed to run the iPhone on mobile devices. Mobile Application is generally small and an individual unit with limited functions. Limited function in the sense that "Every mobile application is designed to perform the specific task according to the need and requirement."
TYPES OF MOBILE APPLICATION
Every day, we use a mobile phone where various types of apps (applications) are installed for various types.  Basically, all these apps are classified into three different categories: Native App, Web App, and Hybrid App.
A) NATIVE MOBILE APPLICATION
Native Mobile Application refers to the application that is designed for the specific operating system.  This means that a native application developed for an Android operating system won't work for iOS and vice-versa.
B) WEB MOBILE APPLICATION
Web Mobile Application refers to the application open in the web browsers running in the mobile device.  This application does not depend on a mobile operating system, which means we can use this app on Android,  iOS, windows and other devices.
C) HYBRID MOBILE APPLICATION
As the name suggests the hybrid. Hybrid Mobile Application is a mixture of both native and web mobile app. This app does not have high-performance requirements and needs full device access.
In my opinion, the future of mobile is the future of everything.
- Matt Galligan, Co-founder of Circa
MOBILE APPLICATION FOR BUSINESS
Mobile Applications is being very popular among the business and service provider.  You can find an online store app to bank transaction application in the play store, which are super quick to download and updates automatically. Here are the few benefits of having a mobile application for business.
A) MOBILE APP IS THE SOLUTION
No one can deny that almost all that the world has gone crazy for mobile. 42% of people browse and shop from their mobile phones.  The main idea is to reach customers through a mobile app so that they can easily look for anything they are interested in. Everyone wants to access your site, products, service with ease and mobile app is the solution.
B) INCREASE INTERACTION WITH CUSTOMERS
Business is the world of competition if you move slowly you make lose your potential customers. So to make sure your product reaches to the customer first, there should be an availability of a mobile app.  This not only increases interaction and connection but also increase sales of your business.
C) ADD VALUE TO YOUR CUSTOMERS
Mobile Application will surely add value to your customer. You will always be able to reach your customers with new products and ideas, so do customers. The mobile app creates awareness about the products and services that you are offering and encourage your customers to buy.
D) MOBILE APP FOR PROMOTIONAL AND BRANDING YOUR BUSINESS
Customers love mobile applications. Mobile application grabs the customers attention and improves the visibility of your business. The uniqueness that mobile app gives is much more than Newspaper ads, outdoor hoardings, social media marketing etc because people like creativity and beautiful layout of a mobile app as they are used to it.
* Other benefits include:
1. Increase user engagement
2. Create new revenue
3. Act as a feedback application
4. An app can be a payment gateway
5. Stand in the crowd and out of competition
6. Syncs customer emails and social account
A mobile app may not save your business, but it is sure of securing a strong presence in the market. If customer satisfaction is the top priority, a mobile application is a solution. Still, if you don't a mobile app, there's a good chance you'll be left behind your competitors.
We have the knowledge, skill, talent, and experience to serve on all kind of Mobile Application need to our clients in Biratnagar, Nepal and other countries.